YAY!! it's once again time for SUNDAY SOCIAL!! One of my favorite places to link up :)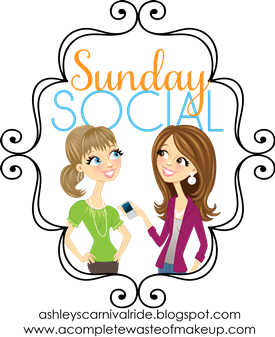 This weeks theme is: Brought to you by the number 5
1. 5 songs you'll listen to the rest of your life.
Being the music lover that I am it was extremely hard to just pick five but this is what I came up with.
Time of your life- Greenday
Remember when- Alan Jackson
She talks to angles- The Black Crowes
2. 5 things on your bucket list.
I absolutely want to go to Disney land before I die!!
Visiting another country (which will be getting checked off very soon since I will be going to India this month)
Road trip from the east coast to the west coast just James and I driving with lots of sight seeing
buying a house
Find the perfect job for me
3. 5 celebs you'd love to hang out with for a day:
Clay Matthews
Pink
Ozzy
Alice Cooper
Ellen Degeneres
4. 5 things you always carry on your purse
Well I actually don't carry a purse anymore because I always seemed to forget it so now I carry everything in my pockets or it stays in the truck. But when I did carry one it always contained
My wallet
phone
gum
pictures of my kids
perfume
5. 5 books on your reading list
Being the true crime fanatic that I am of course these are all true crime :)
Homicide: A Year on the Killing Streets, David Simon

Bestial: The Savage Trail of a True American Monster, Harold Schechter
A Rip in Heaven: A Memoir of Murder and Its Aftermath, Jeanine Cummins
Cries Unheard: Why Children Kill — The Story of Mary Bell, Gitta Sereny
Lethal Intent, Sue Russell
6. Share the last 5 pictures on your phone.
Visiting one of my favorite Aunts
Santana showing Brutus his crate
At the park with the kids
Cute photo op
A super cute heart shaped rock like thing Nick found while walking