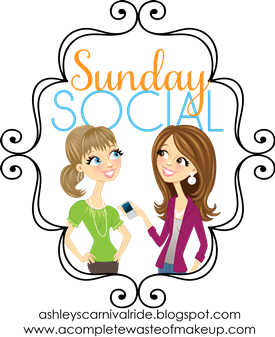 I"m linking up to Sunday Social this week brought to you by
Neely
!
This week's questions are childhood questions! YAY!!
1. What was your first car?
My first car: I didn't really get to enjoy my first car. I paid $500 for a 70 powder blue Mercury cougar when I was 16 and it's transmission blew out as it was being brought to my house.
this is almost what it looked like
My first car that I bought and was able to drive was a blue 86 Plymouth horizon

It definitely wasn't my dream car but I loved the freedom that came with it and I of course had my stickers all over the back glass of the bands I loved.
2. Who was your favorite childhood teacher?
I actually had a couple teachers that I thought highly of
Mrs. Hanes my fourth grade teacher
was such a delight to have.
In seventh grade I remember Mrs. Carr as being yet another
favorite. She was so kind. and lastly My 8th grade science teacher Mr.
Branch (I think). I hate that I forgot his name but he made science so
much fun. He was also in my group on a school trip we took called
outward bound.


3. Were you involved in any sports/extracurricular activities? Share pictures if you can!
The only extracurricular activity I was allowed to join was the yearbook staff in 8th grade. I loved it because even at that young of an age I LOVED taking pictures.


4. What was your favorite birthday party?
This Birthday was one of my most memorable birthdays. One because just about all my family was there and 2 because my mom got a helium tank and there were lots ob balloons.
I don't think there was party this birthday but I love the picture of me holding the cake my mom made for me. She always had such a gift when it came to making cakes
5. Who was your teen celebrity crush?
Boy I know this shows my age but I was so crazy about the coreys
Also the Wahlberg brothers donnie and Mark
And lastly I know they are not teens but I was crazy
about just about all the 80' hair bands
From Cinderella to Warrant including this guy Sebastian Bach
6. What show/movie did your parents not allow you to watch?
Growing up we were absolutely NOT allowed to watch The Simpsons. I swear I believe my brother and I were the only kids who didn't watch it. We were told that Bart was disrespectful to his parents so it was not allowed on our tv. I did find it quite funny though that we never missed an episode of Married with children. LOL!!